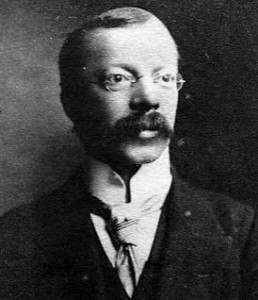 Although he appears to have been wrongfully convicted of the poison-dismemberment of his wife, Cora (based on modern DNA evidence), Hawley Harvey Crippen may still have been guilty of her murder.1 Whether that is the case or no, is of interest to poison-death murder expert John Harris Trestrail III.
Having seen the PBS presentation featuring the modern-day investigation, I have developed an interest in the case, though I am not in a position financially to pursue the matter. What I can do, at least to some extent, is consider the genealogies of individuals associated with the case. So I present in this first installment, a brief genealogy of H.H. Crippen's family tree.
Although it makes for dry reading, here are the facts – beginning first with Harvey's father's tree, then with his mother Ardessa's tree.
Harvey's Father
Harvey was the son of Myron Augustus (April 1835 – 18 November 1910) and Ardessa Skinner (Jul 1835 – 8 Jan 1909) Crippen.2 The couple is buried in Evergreen Cemetery, Los Angeles, California.
Myron was the son of Philo Hard (15 Mar 1809 – 05 Mar 1890) and Sophia Smith (17 Feb 1815 – 17 Mar 1884) Crippen. Both Philo and Sophia are buried at Oak Grove Cemetery in Coldwater, Branch County, Michigan.
Philo Hard Crippen was the son of  Bradley (25 Sep 1783 – 18 Nov 1856) and Hester Hard (23 Feb 1787 – 22 Aug 1863) Crippen. Bradley hailed from Herkimer County, New York, while Hester was from Bennington County, Vermont. Sophia, Philo's wife, was the daughter of Francis Smith. Additional information concerning Sophia will be forthcoming.
Harvey's Mother
Ardessa was the daughter of Elijah (20 Dec 1801 – 21 Sep 1852) and Sarah Young (05 Oct 1806 – 03 May 1886) Skinner, of Susquehanna County, Pennsylvania.
Elijah was the son of William H. and Elizabeth Gray Skinner. William was born 22 Mar 1773.
Supplemental Information
Little is to be concluded at this point from Hawley's family tree. It is interesting to note that Myron died penniless, fully trusting in the innocence of his son, upon whom he depended for his livelihood. If new information concerning the above individuals is discovered, it will be entered in this article as an addendum.
Note: Doesn't it seem just a bit strange to you that legal authorities would hang a man 75 years old?
1 Another Look: Crippen Poison-Dismemberment Murder of 1910
2 It should be noted there are variations in the spelling of Ardessa's first name.