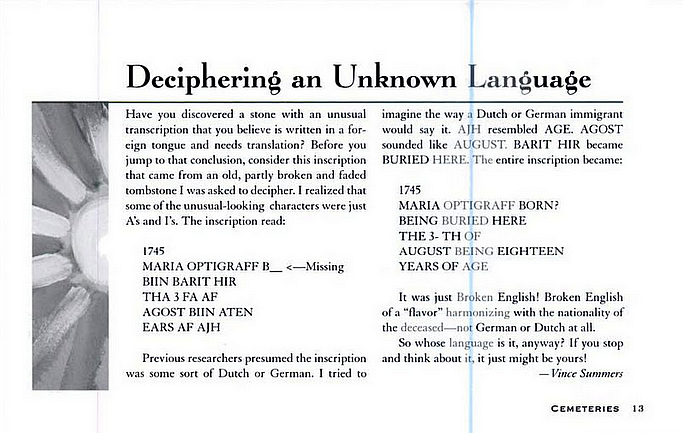 Decipher a German tombstone? What trick is there to that?
I was once deeply involved in genealogy researches. A distant Kite family member had connection to the original 13 settlers of the Philadelphia, PA area. These immigrant families were of German origin. In my pursuits, I had established an email list on a site that went "belly up." Shortly before that, I had been invited by a Rootsweb representative to transfer my list to their oversight.
Interested Researchers
As of September 2019, the Original-13 list still exists there. For some, the tombstones of family members of these 13 are of special interest. One tombstone in particular caught their interest. It read very cryptically. Descendants wondered what language was used in the inscription. How did it read?
Here is the transcription:
1745
MARIA OPTE
GRAFF B___
BIIN BARIT HIR
THA 3_ TA AF
AGOST BIIN ATEN
EARS AF AJH
A German Tombstone
Some of the list members felt this was a German tombstone, so the epitaph must have been written in some form of German. After all, their ancestors were undoubtedly well-educated. Would they not have carried their German culture with them?
Not being inclined to prejudge the inscription, I attempted, on 21 Aug 2000, to explain what the inscription might mean. After all, these people came to a new land to make that land home! Could their inscription have not been written in English? After some staring and some thinking, and talking it out with a British co-worker who agreed with my conclusions, I came up with:
1745
MARIA OPTI
GRAFF BODY
BEING BURIED HERE
THE 30TH OF
AUGUST BEING EIGHTEEN
YEARS OF AGE
And that it actually represents the burial of Maria Evans Updegrave (one of several variant spellings). She was the daughter of Abraham Updegrave and Elizabeth Evans. She was born in 1727!
Author's Note: I just discovered that my elucidations, listed above, were actually published in the book Quick Tips for Genealogists by Juliana S. Smith. The book is referenced below. I have received no royalties or benefits whatsoever. However, neither do I seek any, nor do I feel cheated in any way. Rather, I feel honored to have been put into print. In fact, I have been mentioned in some four genealogical publications.
References: