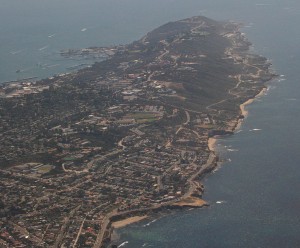 Editor's preface: Author Ellen Hetland Fenwick sprinkled the ashes of her deceased husband in the waters of the Pacific. In this memorial, she notes other family members with at least symbolic connection with water, including the death of John Sommers, our joint great-grandfather.- VES
I hear that the depths of the Pacific are cold.
Never mind. You will not feel the chill.
I wish you to see all the finny life as you go around the world with unseeing eyes and without having to bother to breathe.
I wish for you to go around the world entombed in the lower fathoms. My oceanographic friend says that rather than this fate, you will swirl around the Pacific lower and lower until you come to rest below.
I say, No!
Around the world you will go. And the always hungry fish will feast on the tiny bits that are left of you – bits that will help form future generations.
Your mother¹, wife², son³, son⁴ were all born under water signs.
Your grandfather-in-law⁵, great-grandfather-in-law⁶, great-grandfather-in-law⁷, died a watery death.
And thus you join them.
¹ Helen Warner Hetland
² Ellen Hetland Fenwick
³ David Warner Fenwick
⁴ Thomas Joseph III Fenwick
⁵ Knud Andreas Osmundsen, fisherman; drowned in a fiord in Haugesund, Norway
⁶ Knud Osmund Nilsen; drowned with his son in a fiord in Haugesund, Norway
⁷ John Sommers (alias William Keefe); miner, drowned in the Susquehanna River