The much loved fictional TV series The Waltons was based on author Earl Henry Hamner's real life family. The name of the community in which Hamner's family resided is Schuyler. It is located in Nelson County, Virginia and neighbors Scottsville, Virginia.
Today, apart from its connection with The Waltons, Schuyler goes largely unnoticed. Yet historically, it was a vibrant locality. It was inextricably linked to the Alberene Soapstone Quarry. The question arises, how did Schuyler get its name?
How Schuyler Got Its Name
Schuyler, with its current population of some 300 persons, was once the home of thousands. It was originally named Walker's Mill, after William H. Walker and his family. Walker's son S. G. Walker is listed in the 1880 U.S. census as "farmer."
The farmer sought to establish a post office locally. The USPS suggested Walker incorporate "Schuyler" in its name. S. G. Walker was appointed the first postmaster in 1887.
So Who Was S. G. Walker?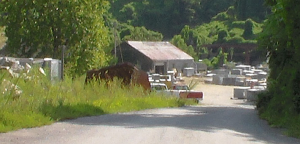 It seems Schuyler George Walker was actually born in the mid-1840s, not the 1850s. His parents were William H. and Mary Williams Walker, married in 1832 in nearby Louisa County. William H. Walker, among other things, successfully operated a sawmill. William's son Schuyler's wife Kate's parents were Richard L. and Mary E. "Polly" Wilbourn. The couple was married in 1867.
S. G. and Kate had a number of children, including Nettie, Mary, Anna, William, Kate, Maurice, Ruth, and Laura. During the 20th century, Schuyler is listed in the census as "merchant." Schuyler is listed as "widower" in the 1930 census.
Note: You might also enjoy Why is Soapstone Slippery?
References: