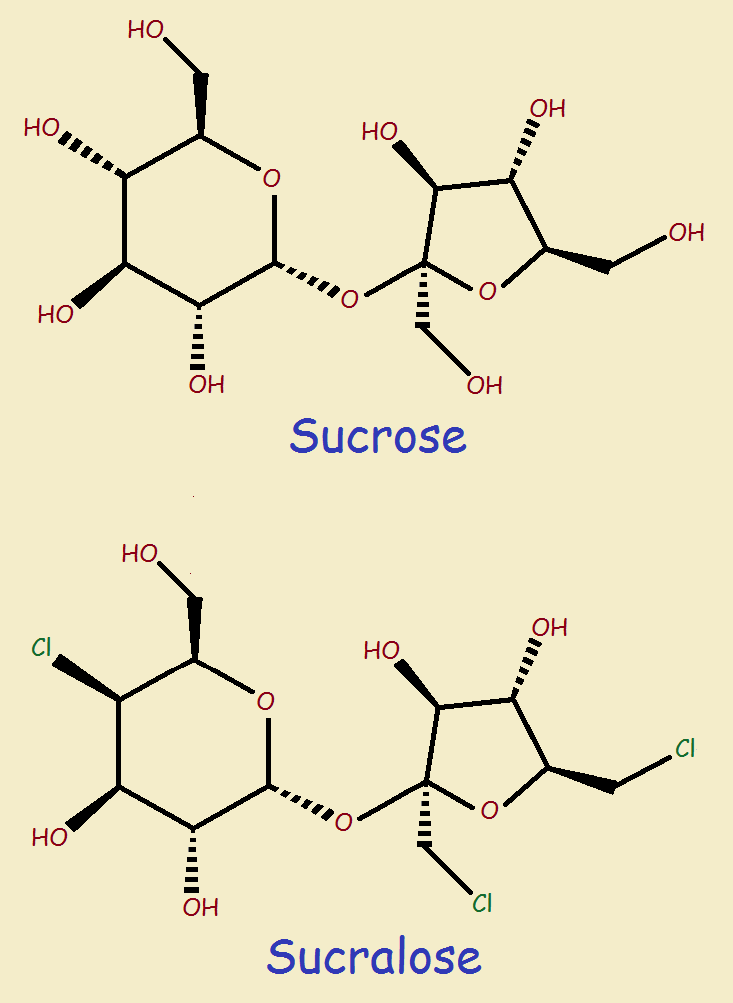 What is the difference between sucrose and sucralose? Sucrose is the name for ordinary table sugar, the white granulated stuff. Millions of people have put it on their cereal and in their coffee. On the other hand, sucralose is an artificial sweetener. Their names are decidedly similar. Is this mere coincidence? We will soon see.
At First Glance
The chemical formula of sucrose is C12H22O11. It consists of twelve carbon atoms, twenty two hydrogen atoms, and eleven oxygen atoms. It is the structure – the layout of the atoms – that defines the compound. See the structures of sucrose and sucralose at left. Especially note their similarity.
But There IS a Difference Between Sucrose and Sucralose
The main difference is the replacing of three hydroxy groups (-OH) with chlorine atoms. There is one small added difference. Notice that in sucrose, the hydroxy group at the left that is replaced by chlorine in sucralose has its attachment to the ring drawn dashed, whereas the same bond in the case of sucralose is solid.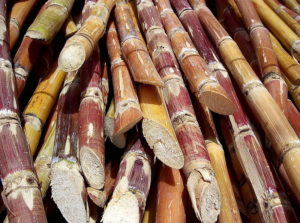 Since molecules are 3-dimensional, whereas paper is 2-dimensional, the dashing is meant to indicate the bond points below the plane of the paper, but when the bond is solid, it is pointing up above the paper.
Replacing three –OH groups with –Cl changes the chemical formula of sucrose into C12H19O8Cl3. So what are the benefits to using sucralose over sucrose?
Little sucralose metabolizes in the digestive tract. It leaves the body in the urine. Absorption is nil. Calorie intake is essentially zero, zilch, nada. In addition, sucralose is hundreds of times sweeter than sugar. Very little of it is required.
Now that you know the difference between sucrose and sucralose, which do you choose? Or will you choose both?
Note: You might also enjoy Carbs or Carbohydrates – What are they?
References: