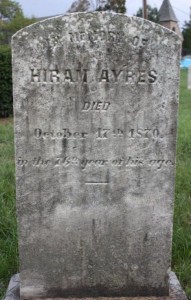 As odd as it sounds—it's true. I owe my life to a war—the War of 1812. How so? Well, simply put—the war brought two of my future great, great, great-grandfathers together! If they had not met, the one's son would not have met the other's daughter, there would have been no courtship and marriage, and my great-grandfather would never have been born!
Let me show you, starting with my great-grandfather, Chestnut Street, Philadelphia gold-leaf manufacturer and book publisher, Henry Ayres (1856-1929).
Henry Ayres was the son of George R. Ayres (1818-1881) and Ellen W. Ayres (1826-1880).
George Ralston Ayres was the son of Hiram (1795-1870) and Mary Ann Ralston (1796-1864) Ayres.
Ellen Weatherly was the daughter of Philadelphia clockmaker, David (1779-1851) and Mary "Molly" Lawson (1784-1866) Weatherly.
Proof of the Tie to the War of 1812?
Wherein is the evidence David Weatherly and Hiram Ayres met during the War of 1812? One day I noted to my surprise that among the Pennsylvania Volunteers of the War of 1812, under the captaincy of Cornelius Stephenson, was listed Private Hiram Ayres, 1814. Listed under the same captaincy—volunteer Private David Weatherly!
Note: You might also enjoy The 1793 Terror: The Yellow Fever Epidemic
References: