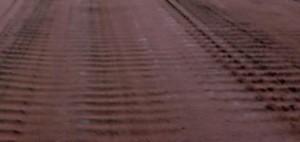 What is a washboard road? And what causes one?
No doubt you've ridden gravel roads that made feel like you were driving across a washboard. You felt like you were being shaken to pieces. Then you noticed the road's parallel ridges and grooves.
Each groove was two or three inches from the next one. You slowed your speed to reduce the vibration and thought, "What causes washboard road surfaces, anyway?" Many previous to you have asked this same question.
Washboard roads are miserable to travel. Car control suffers from lack of road contact. Accidents result.
One Common Explanation for Washboard Road
Some suggest1 it is a vehicle's suspension system that causes seeming random forces to change into a harmonic, feedback pattern that results in compactions (or valleys) and upward displacements (or crests). According to this theory, vehicles traveling roads along such a surface must have their velocity adjusted to reduce bouncing, increasing comfort.


Some Researchers Disagree
Laboratory tests suggest the above mechanism does not truly portray the origin of washboard road surfaces.2 Rather, they can be produced without a suspension or even wheels. Unfortunately, what actually does produce the effect has not been released from the findings. Presumably, we must wait a while for a suitable explanation.
Author's Remarks
Although my education was in the field of chemistry rather than of physics, I have a theory I'd like tested. Does travel by car or other vehicle produce sufficient horizontal force that it makes gravel surfaces at point of contact behave like a solid wall? And does the wheel or other device then climb that wall, then sink to repeat the process?
1 The Straight Dope: What causes the "washboard" effect on unpaved roads?
2 Washboard Road: The Dynamics of Granular Ripples Formed by Rolling Wheels
Note: You might also enjoy What is Red Clay?
References: