Chocolate is Man's unquestioned favorite sweet treat. At one time, the wisdom of eating chocolate was questioned.
Carob was offered as a replacement, though it never caught on. Despite that, carob is of commercial importance. In fact, a derivative of carob is probably very familiar to you—locust bean gum. What is locust bean gum?
What It Is
Locust bean gum is a food additive—a thickener—derived from the carob tree (Ceratonia siliqua). It is prevalent in the region of the Mediterranean. The elongated pods of C. siliqua are coarsely ground, then separated as two fractions—pulp and seed. LBG is derived from the seed fraction.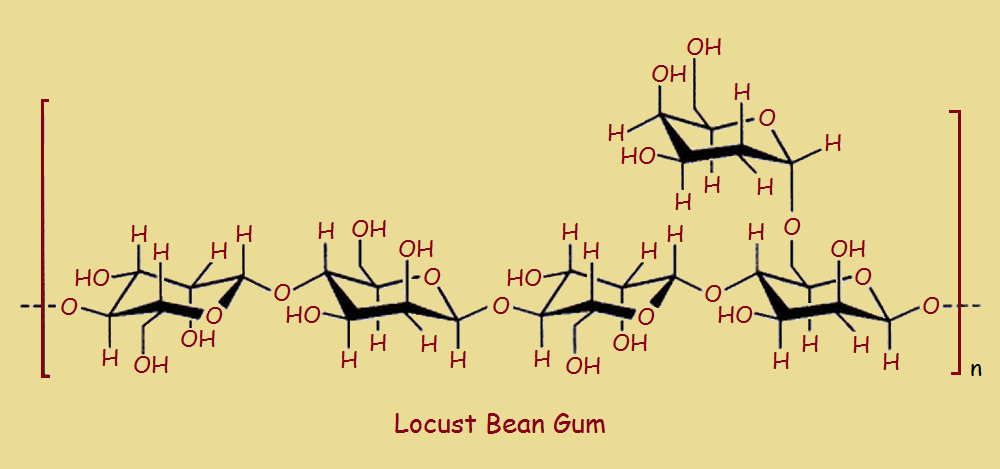 Seed Processing
Seeds first have their skins removed by acid treatment or by roasting and mechanical removal. The seeds are then split and milled. The rugged yellowish endosperm is collected and fine-ground into "flour." This flour can be used to form a sol. Or it can be modified to form a gel, by combining with carageenan. Although LBG is not very soluble in tepid water, it dissolves readily in hot water.
Chemistry and Structure
The chemical structure of locust bean gum consists of linked sugar units. Specifically, it is made up of two hexose (6-caron sugars), mannose and galactose, in a ratio of about 4 to 1.
The mannose units are bonded end to end with galactose units attached at the side. The LBG structure is immense, with a molecular weight of from fifty thousand to two million!
Locust Bean Gum in Food Use
Although it can be employed in a number of other applications, the most familiar use of LBG is for food. Dairy products, sauces, and salad dressings contain locust bean gum. Meat products, breads and breakfast cereals may contain it, as well. LBG can be used to replace fat, and lower cholesterol. It has even been associated with decreased diarrhea in infants.
Note: You might also enjoy What is Carageenan?
References: