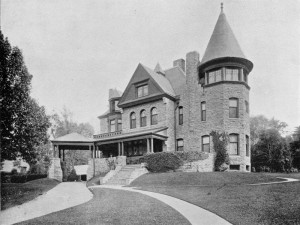 William Ayres of Wm Ayres & Sons Inc, was born 27 March 1820 in Moreland Township, Montgomery County, Pennsylvania. He married Elizabeth DeArmand Chambers, who was apparently born in Trenton, New Jersey.
He was the brother of my great-grandfather. He is listed in the 1850 U.S. census as married and with two children, living in the home of his in-laws, occupation: merchant. He is listed in his own home in 1860 in Philadelphia. In fact, by then he has all five of his children, and the mother-in-law is with him—his father-in-law apparently having died.
Further Insights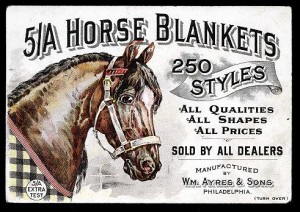 Ayres in 1860 is listed as a hardware merchant. That would not seem to suggest horse blanket manufacture was his primary trade, but it doesn't prohibit the possibility. In 1870, hardware merchant, and in 1880, manufacturer. So it may be he was in horse blankets early on. Or he may have slid into that occupation sometime after 1870. Certainly this would have been the case before 1876, as that was the year of the Exhibition, in which the Ayres family had an exhibit.
William, the father, died 10 September 1881, so his life was rather short. He is buried at Woodlands Cemetery in Philadelphia, though I have never seen his grave, or even had it photographed.
Wm Ayres & Sons and After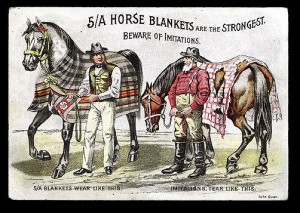 Like most men, he involved the males in his household in the business, most notably his eldest son, George Ralston Sr. Ayres, along with John Chambers Ayres, William "Montgomery" Ayres, and Louis Harlow Ayres, his other sons. George was the holder of the 1887 Patent No. 17,864 for a horse sheet (careful how you say that) of plaid design. He also died young, on 09 December 1890, of Typhoid Fever. He is buried at Laurel Hill Cemetery in Philadelphia, quite a lovely location.
His son, William Graham Ayres, became a partner in the firm, along with Montgomery and Louis, and they made considerable money, as can be seen by their bankruptcy sale in 1921. They were given $319, 667 – a tidy sum for those times. Now Louis had fathered two children, both girls. Montgomery had only one I am aware of, again, a girl. John had died years before, without providing a partner for the firm—his two sons seem to have been geographically elsewhere, and gone in for other things.
What Else Happens?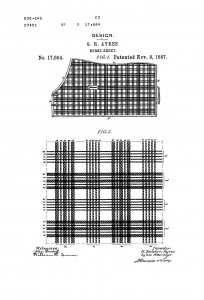 This leaves the sons of George Ralston Sr. Ayres available to eventually re-awaken the firm, if that was to be. George Ralston Jr. Ayres was in the bankruptcy in 1921, and his son appears to have been basically a well-to-do, but unsuccessful, mechanical engineering buff. There is one other possibility for bringing the firm back: Walter Chambers Ayres.
Walter had two sons, one Ned Irish Ayres, who died in the first decade of the 20th century. The other, though, was George Ralston III Ayres. He lived until 1981. Why are we trying to determine if there could have been a re-awakening of the Wm Ayres & Sons Inc firm? Because it seems quite likely that is what happened.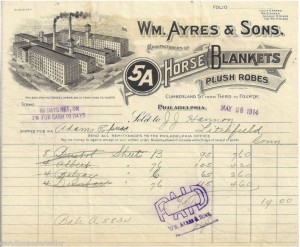 There was a firm called Ayres-Philadelphia, Incorporated, a manufacturer of horse blankets, which finally stopped paying taxes about 1982.
Now considering the death date of G.R. Ayres III, in September of 1981, it is at least possible the timing is more than coincidence. If anyone has information to this or other effect, please contact me and let me know, won't you? Meanwhile, enjoy the images connected with this remarkable family.