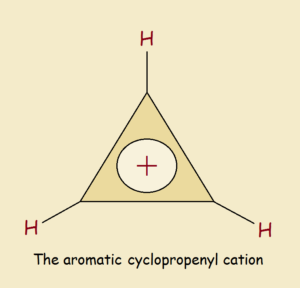 Can there exist something as small as a 3 carbon atom aromatic cyclopropenyl cation? Let's find out.
The simple Hückel description of aromaticity states a ring shaped molecule will be aromatic if it meets certain criteria. One is the species must be flat. Another is it must contain (for a small integer n) 4n + 2 π-electrons. Mathematics tells us three points define a plane. So a cyclopropenyl ring must be flat!
As to π electrons, when n = 0, the ordinary cyclopropene molecule is not aromatic. It becomes aromatic only if the third π electron is missing. That is, when it becomes the cyclopropenyl cation and its ring has a positive charge.
C3H3+
If delocalization was not a factor, this ion would be drawn as an unequal sided triangle. There would be a somewhat shorter double bond between two of the three C atoms. Each of the three atoms would have an attached hydrogen atom. Only one of those carbon atoms would carry the positive charge.
However, delocalization is a factor. This is due to symmetry. So each of the identical carbon atoms must be connected to its two neighbors by something more than a single bond but less than a double bond. Each carbon atom also bears approximately a +1/3 charge.
It is the Aromatic Cyclopropenyl Cation
The structure is stabilized by the equal division of electrons among the skeletal atoms. It is a kind of average.  It is called delocalization. It is as if the double bond moves around the ring at will. It is called resonance. In this case, resonance stabilization is greatly reduced. Why? Due to strain from the abnormally acute angles at each vertex of the carbon atoms.
Note: You might also enjoy Is Cyclopropenone Aromatic or Not?
References: