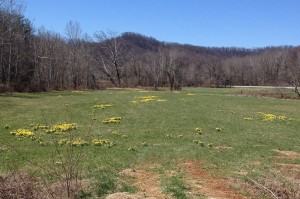 Hurricane reminders can be grim. Rather like Beauty and the Beast.
In August of 1969, a terrible storm, downgraded from hurricane status, struck Nelson County in Virginia, killing more than 150 people – washing away and otherwise destroying many homes and other buildings. This tragedy is etched in the minds of survivors and is a hallmark of the county's history. It will not quickly be forgotten. To this day, newcomers can see evidence of the devastation.
Green Acres is the Place to Be
In the Green Acres area in Lovingston, a mountain cliff can be seen that is naked of soil and trees, though gradually it is filling in with small vegetation. But there is another reminder that certainly tears the heart of the one first taking notice of it.
In the early spring, just after the final snow falls, the yellow daffodils burst through the green grass, bringing life to their surroundings. How ironic it is, then, that these yellow living gems also speak of Camille's destruction. How so?
Hurricane Reminders
The daffodils come up in rectangles, outlines of the houses once present, now gone forever. These living rectangles testify to much sorrow and grief. The image included with this article, though not the best example, was taken in an especially hard hit area – Massies Mill.
Forty-six years after the fact, the daffodils not only bloom – they thrive. There is no evidence they will stop declaring their grim reminders. For some reason, many of those sites have not received new construction.
May those seeing them at least briefly recall the people who once made their homes in this and surrounding neighborhoods that also experienced the devastation that is called Hurricane Camille.
Note: You might also enjoy Early Signs of Virginia Spring Flora
References: