George Bucher Ayres (1829-1905) was neither an unknown nor an insignificant man. He is famous for having hand-painted photographs of Abraham Lincoln, originally taken by Alexander Hesler. You see, he had purchased the man's studios and found the glass negatives.
But George Bucher Ayres was not a singularly talented man. He was an historian, a photographer, a newspaper editor, an author, so forth and so on. Search for him by name and you will learn a number of things about him. One of his most interesting adventures was when George Bucher Ayres booked Swedish Nightengale Jennie Lind (formerly employed by Phineas T. Barnum) to make a public appearance in Chambersburg, Pennsylvania.
George Bucher Ayres – Artistically Inclined
Yes, George Bucher Ayres was also into music. He was a musical instructor. He worked with various musical persons, including a niece, Susan Bucher Ayres, the daughter of his brother. I have transcribed a letter from George Bucher Ayres to Susan. It is a touching letter. In it, for example, he mentions with fondness, his deceased wife, Mary.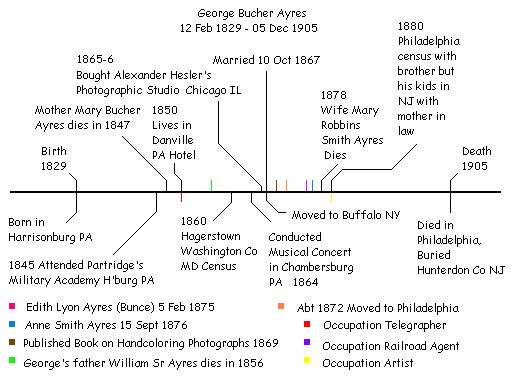 Read with Me Now
Bloomsbury New Jersey
Sept. 24.
My dear Sue~
I will begin a reply to your letter although I shall not be able to finish at this sitting.
Your letter found me here, where I arrived July 3d. Don't imagine I am on a vacation, + consequently am having an easy, good, lazy time. I don't come out for that, + have not time for anything of the sort.
I simply remove my studies, & though I have been here ten weeks + more, you may be surprized to learn that I took one day, "holiday," – to visit Easton. This is not a studied restriction, but so long as I enjoy the country air all about me (+ that's what I came for), why not work?
To explain: I load up with a big lot of Lincoln photographs, which require finishing with the brush + thus I work while I am "outing." If I did not, I would not be prepared to supply my agents at Christmas time, which is my 'harvest.' However, my orders continue through the summer also, + I fill them from wherever I am.
This is the first time for several years that I have remained here for Hayfever time, but don't think I shall do so again. The air has become vitiated by neighboring Cement Works, + the smoke (of soft coal) + gas from the two railroads, whose trains seem to be endless. Last year I was on Mt. Pocono. I always begin my outing here.
You doubtless know why I come here. It was Mary's home and her last resting place. I have my own gravelot, + of course, in God's own time I shall lie here also.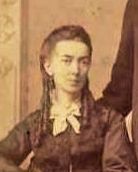 Thirty-seven years have elapsed since I first saw the village, + great changes have occurred in its population. I have remained by the favor of God, but nearly all whom I met in 1866, have "fallen asleep." The boys and girls "then" are the men and women – the fathers and mothers – of today; and I am a sort [of] Rip Van Winkle among them! Why not,? since I am the surviving patriarch! of our own family.
My general health continues good, + my faculties not sensibly impaired; I am writing this letter without spectacles.
But (+ there is always a 'but,' you know), my heart pain – angina pectoris – quite outdoes me sometimes. It will be singular for you to know that a few of my worst attacks have been relieved by music! My mind runs after the music, + diverts the nervous sensation from my heart; isn't that ridiculous! But it is positively true.
I am highly gratified to learn that your expectations for [Plegh?] have been fully realized. Unquestionably, any business implying 'brains' find its best opportunity in the city! So the teaching of music is so largely a matter of reputation. I hope you cultivate the best musical associations + acquaintainceships. Reputation enables many to attain high rates as teachers, whose pupils could learn just as much – perhaps more – from teachers of lesser grade. There is something in a name, – sometimes – Shak[e]spe[a]re to the contra[ry] notwiths[tanding.]
I would be glad to send you some of my "musical thoughts," but for the slavery of having to copy them. When I am "struck" I jot it down in pencil, + I have a lot of tunes in this way, which I somehow can't get at writing them in ink even in my mss. book. But I will hold this letter until I can get a couple for you. Singularly, all my themes are religious; + I wonder, Can it be the inherited spirit of my gr-grandfather, Rev. John Conrad Bucher? By the way, a biography of him – your distinguished ancestor as well – has been lately published in a magazine, + I will try to send you a copy. I have always felt that I should attribute my musical passion to him; he is known to have been a fine singer, + I possess his mss. book, which is as perfect a specimen of musical chirography as you can imagine.
Yet I must not forget that the gifts of the father were bestowed on the son – my own grandfather Bucher – in whose "copybook," which I have, is to be found a long list of tunes which he played on the flute, when a young man. You see now, that my flute-playing is even hereditary.
Well, I am writing too much, I fear. Have you a picture of me? If not, let me know. When you get your next cards printed, it would improve them to have more space between Miss |Sue| B.
I understand that all are well at Tyrone, + my girls ditto. If you go to Monongahela City, convey my kind remembrances to Vanemmon Lawrence + his daughter Virginia. She called on me at Buffalo, + made an ineffaceable impression; "her bright smile haunts me still."
I hope your mother + all are well, my love to all.
Your affectionate uncle


Geo. B. Ayres
Note: You might also enjoy Wm Ayres & Sons Inc Horse Blankets 5/A
References: