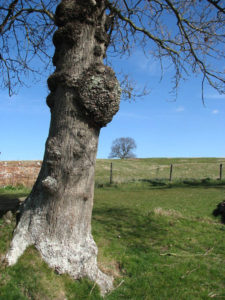 About 24 years ago, my 4th grade daughter advised us the next day her school science fair project was due. No big deal, ordinarily, we had not been told there was even going to be a science fair!
I have a technical background and I hated to think my daughter would appear to be a failure at such an event, so, scratching my head, I figured I'd better come up with something we could accomplish as a father-daughter team, and in a hurry.
My Wile E. Coyote (Supergenius) Idea
At the time, we were living in a small house in beautiful, forested acres. Our trees included hickory, oak, cucumber magnolia, black gum, linden, tulip poplar, black locust, Paulownia, and (yes!) other trees. How much I miss it.
But it was just a day or days previous I had pondered about one or two of those trees, which featured small knobs on their lower trunk. Knobs about the size of an orange. Tree burls.
They were sometimes easy to break off the parent tree. What were they? I would research those and we could do our project on paper, coupled with specimens, for both show and tell.
Little did I realize that after all of this was accomplished, I'd learn of the great value of burls and burl wood.
Preparing the Specimens
One or two of the specimens, we left untouched, so those seeing our science fair project could recognize burls for themselves. It was a simple matter to peel the bark of one or two and cut them in half, sanding the cut surface. We gave them a shellacking.
Tree Burls: What Causes Them?
There are a variety of vectors for the production of tree burls: insects, mold, viruses, and physical damage are among them. The result is the forming cells of twig buds fail to differentiate, leading to deformed growth. In the topmost image, the larger burl growth may be black knot1. The smaller knob-shaped, orange-sized growth, is probably more common, yet because it is less spectacular, it is less-often noticed.
So Ugly They Are Beautiful!
The reason I cut a couple of the burls in half was purely out of curiosity. That curiosity paid off. The wood grain inside was exceptionally beautiful – gorgeous. If a burl is large enough, small furniture items featuring the beautiful grain can be made. Check the citations below to see excellent examples of the beauty of burl wood. Such objet d'art, purchased, are costly!

The Love of Money
Tragically, there much human society that puts money above everything else (compare 2 Timothy 3:2). One manifestation of that is poaching. We're all familiar with the poaching of animals, but were you aware even tree burls are the object of poachers? Note this National Park Service photo of a burl-poached Redwood Tree, at right.
1 Some distinguish black knot as separate from a burl. Black knot often encircles an entire branch or a tree, and make kill the part encircled. It tends not to display grain, but random growth.
Note: You might also enjoy, Black Knot Tree Fungus on Fruit Trees
References: