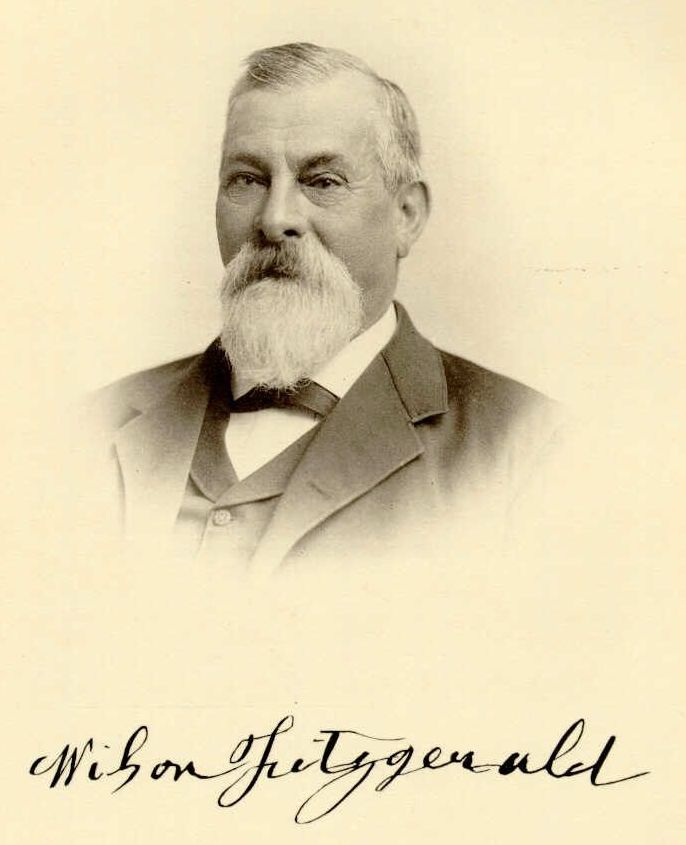 Probably the name Wilson H. Fitzgerald doesn't ring a bell for you. He was an imposing fellow, but it is the time and events in which he was involved that make him interesting. And everyone appreciates a rags-to-riches story…
Wilson H. Fitzgerald…
Belonged to the Philadelphia Resolution Hose Company.

He built dozens of homes in Camden, New Jersey.

Pioneered special business practices in Camden, New Jersey.

Once traveled the rails West on one of Raymond's Vacation Excursions.

Was guilty of assault and battery against a fellow City Council member.

1

Found a large chunk of human flesh on his property 5 miles from an explosion.

Found twenty-five or thirty Revolutionary War cannonballs on his property.

Helped his son-in-law escape charges for embezzling from the Postal Service.

Had a son, John L., who married a girl with ties to the Wideners of RMS Titanic fame.

Had a grandson nearly burn to death.
And, there were other things that made him a fascinating individual…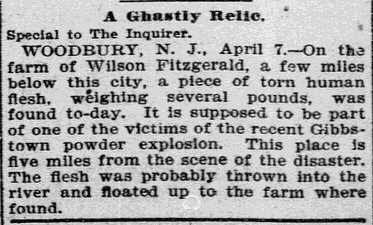 First, Wilson's Ancestry
Wilson H. Fitzgerald was the son of George Killinger and Elizabeth Rees Fitzgerald, born 26 Feb 1819. His father died in 1828 of convulsions. Was it Malaria? Disease-carrying mosquitoes were rampant in that area. Just three decades earlier, a terrible outbreak of mosquito-vectored Yellow Fever killed many, resulting in a shifting of the U.S. government's location (to protect Washington and others).
Wilson's Early Life
Wilson was dirt poor. He grew up in the Northern Liberties, Philadelphia. Wilson was just 9 when his father died. He had go work on a farm. He did that for 7 years. Then he began an apprenticeship to be an oak cooper. That took 5 years. For 4 years, he worked as a journeyman. Finally, at 25, he opened his own shop. Wilson was very civic-minded. As a result, he'd joined the Resolute Hose Company. In 1845, at age 36, he married Mary "Joanna" Colhouer, sold his shop, and moved to Camden, NJ.
Wilson, a Married Man
G. R. Prowell's History of Camden County, New Jersey says of Wilson,
"When he first went to Camden he rented a house on Federal Street, above Second, and in it started what was probably the first green grocery and provision store in Camden."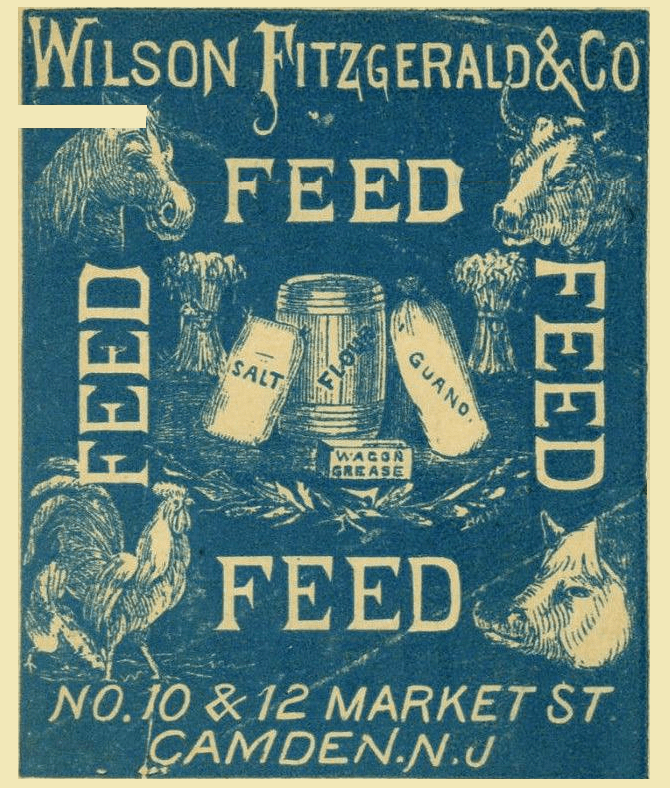 That, in itself, is notable. But Prowell also says,
"He bought property on Stevens Street…that vicinity was then a common, showing no improvement except the little house which he built there…. This became the home of Mr. Fitzgerald and his wife…. He continued building in that neighborhood, as his means permitted, until no less than twenty-six houses had arisen…completely changing the aspect of that part of the town."
Wilson Moves to Cape May, Then…
In 1856 he moved to Cape May, took up farming and established a summer boarding house. He returned to Camden in 1861. During his years at Cape May, he parented three kids, including my great-grandmother.
Back in Camden, Wilson "established himself in the grain, flour and feed business…in the old Hollinshead hotel building." He set up apparently the first wholesale flour business in Camden. One product he advertised was "Celebrated Hungarian Flour".2 In addition, he introduced buying in bulk from the West, with the ferrying of railroad cars across the river.
Wilson also established buying salt from the Turks Islands. I once contacted Mystic Seaport and received this response:
Dear Mr. Summers,
The items in question are two invoices for salt purchased for the schooner
PROVIDENCE from Wilson Fitzgerald & Co. of Camden, NJ. If you would like
copies of the documents, please submit your request on our secure webpage at
https://www.mysticseaport.org/library/services/copyorder.cfm.
Wendy Schnur
Reference Manager
G. W. Blunt White Library
Mystic Seaport
The Museum of America and the Sea
75 Greenmanville Avenue
PO Box 6000
Mystic, CT 06355
tel. 860.572.0711 x5052
Wilson Fitzgerald Still Hankers for His Roots
Wilson still had farming "in his blood", so he established a farm between Mantua and Woodbury along the Delaware River in the vicinity of West Deptford.
At some point, Wilson slyly usurped certain "riparian rights", trying to corner the fishing of shad in the area, even though others had been fishing there previously, for a very long time. In fact, he and the others appeared in court, Wilson losing. In my opinion, this was a low point in Wilson's life.
Wilson Retires
In the year 1885, Wilson handed over the running of Wilson & Company to his son-in-law, politician Louis Theodore DeRousse. DeRousse was always putting himself in the public eye, which made him popular with the people. However, there was a component of his character that was not completely above board. This surfaced publicly in 1903, in the form of a scandalous embezzlement of funds from the Postal Service.3
A Few Additional Remarks
We'd like to include a few additional remarks about Wilson, though no attempt is made here to put them in time-context.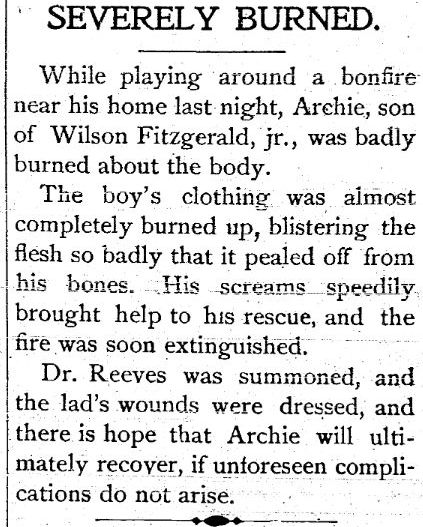 Likewise for the article about Wilson Sr.'s grandson through Wilson Jr., namely Archibald Calisle "Archie" Fitzgerald. I am happy to report that child grew up and married and had children. However, he did die at the rather young age of 40. In fact, I have been in touch with Archie's grandson and his grandson's wife.
Finally, Wilson died at home, age 86 on 7 June 1905. His wife lived another 2-1/2 years.
Are you related in some way to Wilson H. Fitzgerald, Sr.? If so, please tell us your story.
Notes:
1 Researcher Dave Ward says, "Wilson Fitzgerald [was] fined for assault on Calhoun, both [he and Calhoun were] members of city council." Philadelphia Inquirer, 09 FEB 1870, Page 7, Headline – "Camden and Vicinity" — Court Sentences
2 The "Hungarian Process" of milling that combined stone and roller grinding. The method produced flour of exceptional fineness.
3 Louis said he'd only temporarily borrowed it. He then, whether in reality or feigned, appeared to act in demented fashion. Wilson and other relatives attempted to make good the matter, and Louis was exonerated, although replaced.
Note: You might also enjoy David Weatherly: Railroad Executive, Silversmith, Clock and Watch Maker
References: